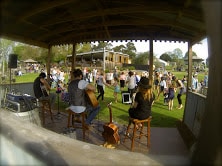 Shedfest is an annual winery festival held on the second weekend of October, it is a great time to visit the Yarra Valley and enjoy everything on offer.
During the Shedfest event wineries in the Yarra Valley will open their sheds to house two days of fabulous food, fine wine, live music and entertainment. If your type of festival is one where you can take it easy, taste local produce, experience the charm of small vineyards, be captivated by stunning views, chat to the owners and winemakers, tap your toes to some fine tunes, play pétanque, take croquet lessons, lawn games and watch the kids have fun, all while sipping delightful wines… then Shedfest Wine Festival is for you.
Our Menu:
Pork Belly Baguette
Crispy pork Belly, mild chilli mayo coleslaw in a soft baguette with sweet potato chips & sour cream $16-
Gnocchi
Traditional gnocchi, wild mushroom ragu with basil, roquette & goats cheese $15-
Cheese boxes
A selection of 3 Gippsland cheeses, Fig & Walnut Rolada & crackers $15 (gfo)
Gluten free, Vegetarian & Vegan option
Basil pesto polenta, crushed potatoes, green pea, shallot & Swiss mushroom ragu $15-
Kids – Mini cheeseburger $7
Desserts – Rich Chocolate brownie with vanilla cream $8
St Ali Coffee
Live tunes by the talented King Louie & the Cheeky Monkeys.
Check out all of the participating venues & menus….. www.yarravalleysmallerwineries.com.au