After many years in Melbourne Mr Payne was granted an 80 acre allotment in Seville on the 18th February 1867. Before settling in Seville, Mr Payne worked in the goldfields and building trades, mastering the skills of lath plastering and the like. These skills were applied to the construction of his lath and plaster home overlooking the valleys of Seville and Wandin.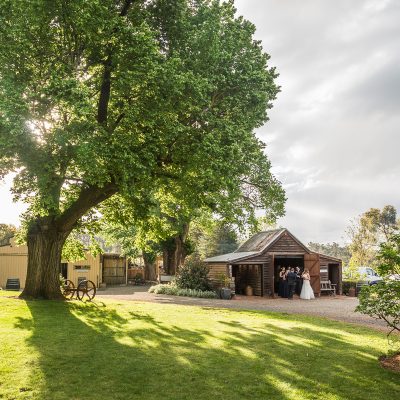 This original building has withstood the vagaries of time and remains a proud sentinel to times past.
Mr Payne worked his 80 acre allotment and also two adjoining properties – making a total of 257 acres. Unlike other pioneer settlers, Thomas had opted for general farming rather than fruit-growing.
In the old stables that still stand, the names of many of the township's pioneers can be found inscribed on the walls. Outside this same small, historic building, you can look down over our vineyards to the rooftops of Seville, and realise that it still retains much of the 'village' character of yesteryear.
Lath and plaster is used for the interior and exterior walls. This process begins with wood laths. These are narrow strips of wood nailed horizontally across the wall studs. Each wall frame is covered in lath, tacked at the studs. Plaster or clay is then applied and forced into the gaps between the lath. Plaster is then used for the final rendered surface.
A visiting journalist gives great impressions of this property in 1887.
….when myself and horse are both refreshed, I make my way past the New Church of England to the Payne's. Mr Payne has without doubt, one of the prettiest places in Seville. Built on the top of a hill, the ascent is yet so gradual that one does not notice the height while views on all sides are splendid….
Split bush slabs and axed dressed beams were used for roofing and frames. Some imported Baltic pine weatherboards are used on the exterior of the kitchen and out-buildings. Windows are double hung sash type, with rope and cast iron weights and have multiple small panes of glass.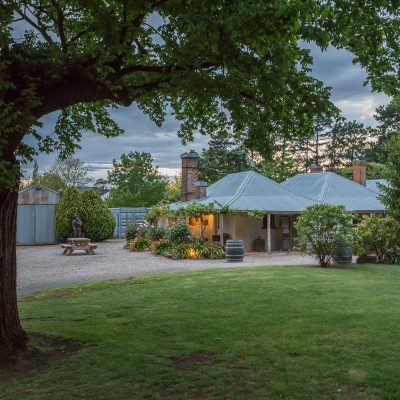 The original floors in several of the rooms are Baltic pine. Interior ceilings are moulded plaster with ornate cornace and light surrounds. All rooms contain open fireplaces crafted from hand made bricks.
Open fire places usually accommodated a large cast iron urn with tap or kettle – ensuring a ready supply of boiling water for all occasions. These were supported by a rod and chain suspended over the fire. Since the 1860's many generations of the one family have walked on the hand made bricks around the kitchen door. What a story they would tell!
The house water supply was originally from the well at the front of the house, later an added supply from the concrete tank was built by a well known brick layer of the time Mr. I. Gray. A Douglas pump would usually accompany the well.